Gold Mine Motel
6 Victoria Street
Waihi, 3610
Phone: +64 (07) 863 7111
Email: info@goldminemotel.co.nz
Facebook: GoldmineMotel
Your Hosts: Vicki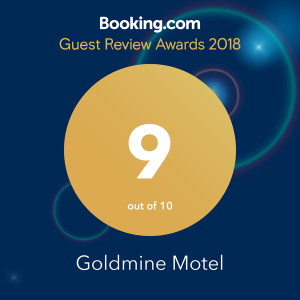 Policies
Check-in: 14.00pm to 20.00pm
We will always try to accommodate earlier/later arrangements as possible, but these will require advance notice and cannot be guaranteed without extra night bookings to cover.
48 hours' notice will usually be required for any cancellation/alteration of bookings. Seasonal/holidays minimums may also apply.
Check-out: 10.00am
Our units are serviced between the hours of 9.30am to 12.00pm daily.
A valid Credit Card is required to secure all bookings. A Visa Debit Card is not an acceptable form of security. If a Credit Card is not available, then a bond may be required on check-in which will be refunded once the unit has been checked at check-out.
Payment is required at Check-in.
Group Bookings are required to pay a 10% deposit of the expected total spend and are required to give 30 days minimum notice to avoid forfeiture of your deposit as it is very difficult for us to on-sell a large amount of rooms at short notice.
Visitors are welcome but are not permitted on the premises after 10.00pm. We ask that you respect your fellow guests and noise must be kept to a minimum. All guests are required to park on the roadside and not in the guest parking areas around the motel.
Parties and noisy gatherings are not permitted. We reserve the right to terminate the stay of any guest that does not comply with this rule. There will be no refund available if this occurs.
Damage/Loss to the units or property, whether intentional or accidental, will be the full responsibility of the registered guests. Any charges incurred will be passed to the registered guest (including insurance excess) by debiting the card or by invoice. Extra cleaning costs will also be charged to the registered guest.
Some of our units have cooking facilities but we do not permit odiferous foods to be cooked. This includes fish and curried meals. These smells permeate bedding, curtains and may require that the unit cannot be occupied until the odours have diminished.
Smoking is not permitted in any of the units. Guests are welcome to smoke outside away from doorways and windows. Cigarette butts are to be disposed of by the smoker and not thrown onto the car parking area.
Return of property left behind by guests. We will do our best to try to contact the guest to inform them of the property left behind. Please forward a self-addressed pre-paid bag and we will return the items as soon as possible.
Pets: Pets are welcome by prior arrangement only. Please contact us to discuss. Strict conditions apply. If approved by motel management and your pet will be in your room with you, the following conditions apply:
We reserve the right to charge a one-off fee to allow your pets to stay with you.
Pets are not allowed on the beds or furniture – please bring separate bedding for your pet.
Please supply your pet's food and water bowls and do not use the motels crockery.
Pets are not to be left unattended in the units at any time.
Please pick up your pet's toileting around the motel.
Pets must be socialised.
There are resident pets on site.